ACUPUNCTURE IN DC, ALEXANDRIA, VA AND SILVER SPRING, MD
Acupuncture is a holistic medical system that originated in China over 2,000 years ago. Over time, it has successfully treated billions of people in Asia and Europe and is now becoming increasingly popular in America. It is a complete system for the treatment, diagnosis and prevention of a wide variety of conditions.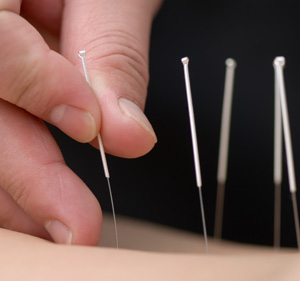 Acupuncture is based on ancient Chinese philosophy that sees all sicknesses in the body in terms of an imbalance in the energetic field of the body. This energetic field has been carefully mapped over many centuries. Over four hundred points have been discovered which, when stimulated, cause systemic changes in the body (there are many different styles of acupuncture, some of which use alternate points). Each point is like a button, with its own distinct effect on the body. These points are stimulated by the insertion of very fine, sterile and disposable needles. A combination of these points is carefully selected to help activate the body's innate ability to heal itself and return to a state of balance.
Acupuncture with Peter
Peter is skilled at a number of styles of acupuncture and chooses the most appropriate treatment for each person. In addition to the Traditional Chinese Medicine acupuncture training he received at Five Branches and in China, at Five Branches, Peter also received specialized training in Five Element Acupuncture, a system that is especially effective at addressing emotional and spiritual issues.

The primary style of acupuncture that Peter uses was developed by Kiiko Matsumoto, one of the most famous acupuncturists in America today. Kiiko has synthesized knowledge from several of the most well-known Japanese acupuncture masters. He has studied with several of Kiiko's long-time students before apprenticing with Kiiko and her senior student, David Euler.
Using Kiiko's system, Peter and his patients get instant feedback about the effect of his treatments. During his diagnostic examination, he finds tender or tight areas on the body. He then carefully locates corresponding acupuncture points that instantly release the tender areas and thereby treat the underlying imbalance. He primarily uses Kiiko's style because it's the most effective style he's seen and it also is gentle and uses the thinnest needles.
How does acupuncture work?
Acupuncture has distinct effects on restoring homeostasis to the body, which is described by the Chinese philosophical concept of Yin and Yang. The concept of Yin and Yang organizes all aspects of the universe into complementary opposites, like night and day, and hot and cold. The balance of these complementary opposites is considered the perfect state of health. Acupuncture restores balance to yin and yang by affecting a patient's qi. Qi is energy in the sense that atoms are energy, so just like western scientists describe everything as made of atoms, acupuncturists describe everything as made of qi.
Qi flows in invisible pathways called meridians that connect your internal organs to your extremities. Meridians nourish your body like an irrigation system feeds a garden and they connect your body like a plumbing system. Acupuncture regulates the flow of qi and unblocks meridians so that circulation is optimized. By balancing qi, acupuncture has a healing effect on the physical, emotional and spiritual aspects of the body.
What can acupuncture treat?
The World Health Organization (WHO) published a report titled "Acupuncture: Review and Analysis of Reports on Controlled Clinical Trials" which demonstrates that acupuncture is effective for the following commonly treated conditions:
Adverse reactions to radiotherapy and/or chemotherapy
Allergic rhinitis (including hay fever)
Depression
Dysmenorrhea
Epigastralgia ("stomach pain"), acute (in peptic ulcer, acute and chronic gastritis, and gastrospasm)
Facial pain (including craniomandibular disorders)
Headache
Hypertension, essential
Hypotension, primary
Knee pain
Lower back pain
Morning sickness
Nausea and vomiting
Neck pain
Pain in dentistry (including dental pain and temporomandibular dysfunction)
Postoperative pain
Rheumatoid arthritis
Sciatica
Sprain
Stroke
Tennis elbow
---
This list is a partial representation of what acupuncture can effectively treat, as it only shows conditions that have been chosen for clinical trial. Acupuncture has been used to effectively treat a wide range of conditions in billions of people over the last 2,000 years. One reason for acupuncture's efficacy is that acupuncturists treat people according to their unique presentation of signs and symptoms, rather than giving the same treatment to each person with the same disease. Clinical trials, which most often use the same prescription of acupuncture points for each person, are not an authentic representation of how acupuncture is normally practiced and thus do not accurately reflect the full power and potential of acupuncture.
Please schedule your session or contact Peter if you have any questions about whether acupuncture can help your specific issue and concerns. He provides acupuncture in DC, Alexandria, VA and Silver Spring, MD.