CHINESE HERBS IN DC, ALEXANDRIA, VA AND SILVER SPRING, MD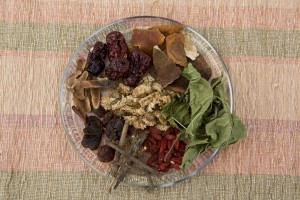 The Chinese Herbal system is one of the world's most sophisticated medical herbal models. Chinese herbs have been used, studied and documented for over 2,000 years. In his practice, Peter does a thorough intake and health assessment to reach a diagnosis. (Each diagnosis has a specific treatment principle. For example, if someone is Yin deficient, then they will be prescribed an herbal formula that strengthens their Yin). Using the diagnosis, he creates a customized herbal formula based on an individual's specific body and condition. These custom formulas are designed to treat the root cause of people's symptoms and therefore both alleviate symptoms and prevent them from returning.
Herbs with Peter
Peter studied Chinese herbs for four years while at Five Branches University. The curriculum includes extensive training in the identification, categorization and clinical use of the traditional Chinese herbal pharmacopoeia. Peter learned the therapeutic actions of over 400 herbs, their properties and the areas of the body that each herb influences. Once these elements were memorized, he then studied how the herbs work together in over 350 herbal formulas. After his in depth training at Five Branches, he studied for three months under master herbalist, Dr. Yu, in Taiwan. Dr. Yu was the superintendent of Taipei City Hospital, an integrative medical center that uses Chinese herbs and acupuncture with western medical treatments and labs. He prescribed custom herbal formulas to everyone who came to see him, which was often over 120 patients a day. Through Dr. Yu, Peter further learned how to use combinations of herbal formulas for better clinical results.
Peter uses Chinese Herbs in conjunction with acupuncture when appropriate. Peter only works with herbal companies that utilize strict testing to ensure that they are free of contaminants. All Chinese herbs are made without synthetic ingredients.
Peter provides Chinese Herbal consultations in DC, Alexandria, VA and Silver Spring, MD. If you have further questions about the use of Chinese herbs contact Peter.