QIGONG IN DC, ALEXANDRIA, VA AND SILVER SPRING, MD
Qigong is an ancient Chinese exercise that integrates movement, breathing, and awareness to cultivate vital energy and promote healing. Millions of people around the world practice Qigong daily to help prevent illness, reduce stress, and boost overall well-being. Because of its effectiveness, Qigong is gaining broad popularity as a holistic healthcare option for physical, emotional, and mental disharmony.
Wild Goose Qigong is a complete healing system. It is one of the most widely practiced styles of Qigong in China today. It is well known for its lovely and graceful movements that suggest an innocent and carefree wild goose. It is a safe and powerful way to make your body stronger, your mind sharper and your mood happier. The movements and postures naturally open the twelve meridians, and induce Micro-Cosmic Orbit to circulate within the governing and conception vessels.
Qigong with Peter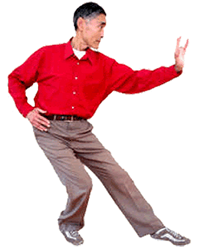 Wild Goose Qigong is a complete set of medical exercises that originated more than 1,600 years ago. With its flowing, gentle, whole body movements, Wild Goose Qigong mimics the grace of wild geese. This style of medical Qigong strengthens the body, sharpens the mind, improves coordination, and deepens breathing.
Peter is a student of Medical Qigong Master Dr. Bingkun Hu, disciple to the legendary Grand Master Yang Mei-Jun, the 27th generation lineage holder of the Wild Goose System. Yang Mei-Jun shared this previously secret system to the public, and it has since become one of the most popular forms of Qigong in China. Peter has been practicing Qigong daily for over 17 years and offers individual instruction by appointment. He also is available to teach workshops and group classes.
Peter teaches private qigong classes in DC, Alexandria, VA and Silver Spring, MD. If you'd like to make an appointment to experience the Qigong method, please contact Peter.